The Indian Women's Press Corps has demanded the release of the 2 journalists, who have been detained by Assam Police at the request of Tripura Police.
The Indian Women's Press Corps in a statement said it stands in solidarity with Samriddhi K. Sakunia and Swana Jha, the two women journalists, who have been "harassed, intimidated and detained for doing their job".
"The IWPC demands that the police immediately release them and allow them to do their job without fear," the organisation stated.
Also read: Assam Police detains 2 journalists on way to Silchar from Tripura
"Sakunia and Jha, who work with HW News Network, were on assignment in Tripura to cover the recent incidents of violence when an FIR was registered against them for allegedly maligning the 'image of Tripura government.
"And then there were reports that they were not allowed to leave the hotel, and on the request of the Tripura Police. were later detained in Assam," the statement said.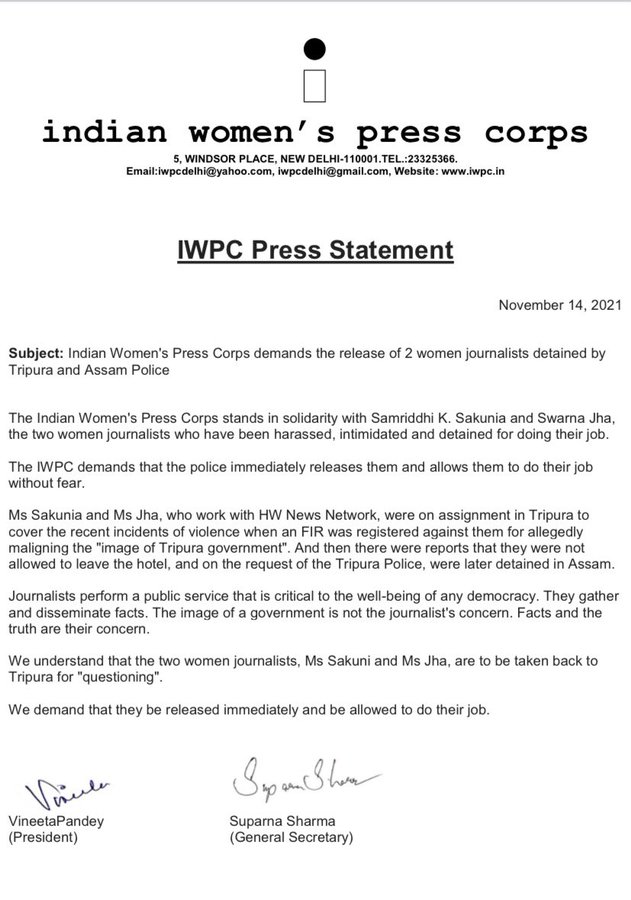 Journalists perform a public service that is critical to the well-being of any democracy, the organisation asserted, adding, "They gather and disseminate facts. The image of a government is not the journalist's concern. Facts and the truth are their concern."
Also read: Foundation for Media Professionals condemns Tripura Police's FIR against 2 journalists
The organisation said, "We understand that the two women journalists, Ms Sakuni and Ms Jha, are to be taken back to Tripura for questioning."
Demanding their release, the statement issued by Vineeta Pandey, president and Suparna Sharma, general secretary of Indian Women's Press Corps said, "We demand that they be released immediately and be allowed to do their job."




This News Present You By Guwahatiassam.info With Out any changes as it Publish at the Original Source.
Like Us to Read This Type of News
Read More Relevant on ASSAM NEWS | GUWAHATI NEWS | NORTHEAST OF INDIA | TRIPURA | SIKKIM | TOURIST PLACES OF NORTHEAST | NAGALAND | MIZORAM | MEGHALAYA | MANIPUR | ARUNACHAL PRADESH | TOURIST PLACES OF ASSAM