The People's Liberation Army (PLA) and the Manipur Naga People's Front (MNPF) claimed responsibility for the attack on Saturday on an Assam Rifles convoy in which 7 people were killed in Manipur's Churachandpur district.
In the attack, commanding officer of Assam Rifles Col Viplav Tripathi, his wife Anuja Tripathi, 6-year-old son Abeer Tripathi and 4 other jawans were killed when their convoy was ambushed by militants at Thinghat in Churachandpur district on Saturday.
In a joint statement issued on Saturday evening, the militant outfits said the attack was 'to protect our people' and that they were revolting against the attempts to 'suppress the rights of our land and the people'.
The militant outfits also claimed that they were not aware about the presence of the Assam Rifles officer's wife and son in the convoy.
Also read: Manipur ambush: Modi, Rajnath condemn killing of 7 including Assam Rifles CO, his wife & son
"We are not going to sit silently till we get our rights and our sovereignty," PLA and MNPF said in the statement.
The PLA seeks "liberatation" of Manipur and demand "separation" from India.
It has been contiuing its struglle since its establishment on September 25, 1978,
PLA is a member of the Manipur People's Liberation Front, an umbrella organisation of 3 separatist organisations of Manipur.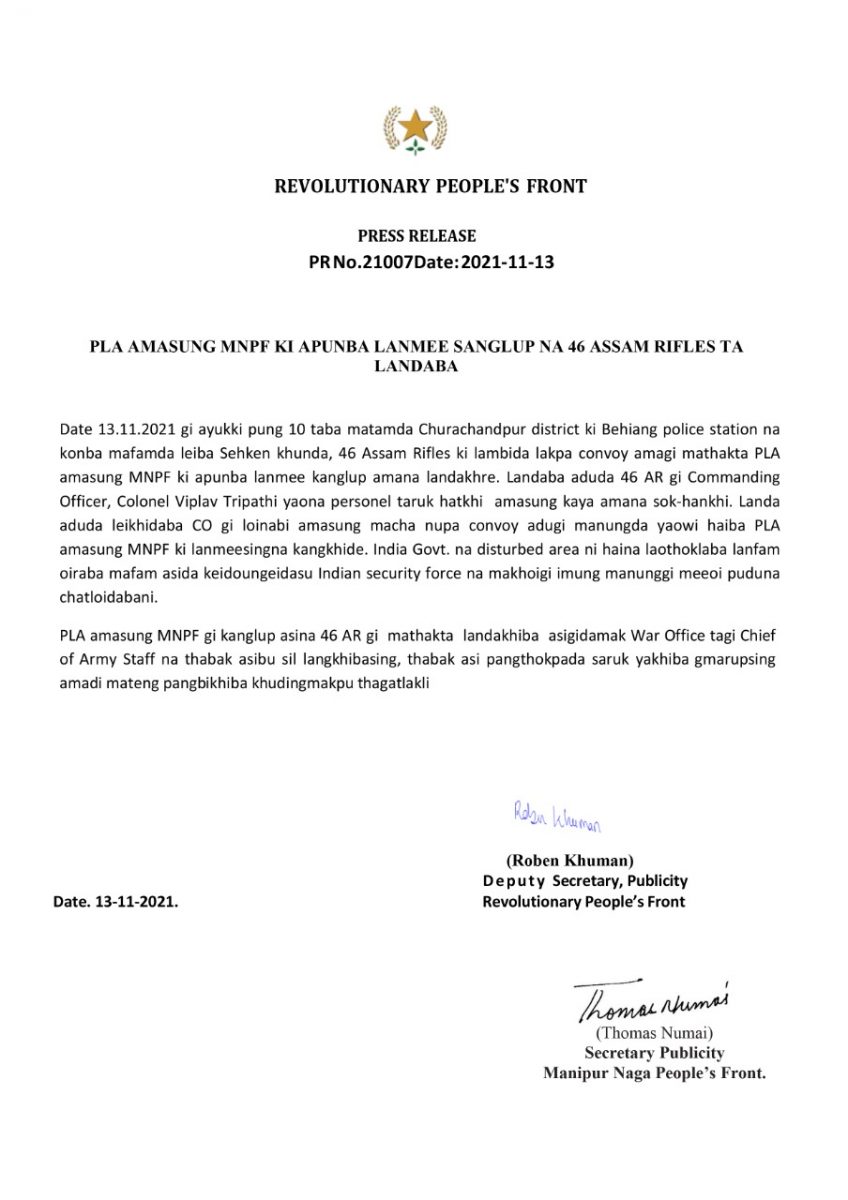 The attack was condemned by Prime Minister Narendra Modi and defence minister Rajnath Singh.
"I pay homage to those soldiers and family members who have been martyred today. Their sacrifice will never be forgotten. My thoughts are with the bereaved families in this hour of sadness," PM Modi tweeted.
"The cowardly attack on an Assam Rifles convoy in Churachandpur, Manipur is extremely painful & condemnable. The nation has lost 5 brave soldiers including CO 46 AR and two family members. My condolences to the bereaved families. The perpetrators will be brought to justice soon," Union minister Rajnath Singh tweeted.
The Assam Rifles in a statement said it suspected that the insurgent group responsible for this massacre "must be from PREPAK cadre as the PREPAK remembrance day is celebrated on 12/13 November 2021″.




This News Present You By Guwahatiassam.info With Out any changes as it Publish at the Original Source.
Like Us to Read This Type of News
Read More Relevant on ASSAM NEWS | GUWAHATI NEWS | NORTHEAST OF INDIA | TRIPURA | SIKKIM | TOURIST PLACES OF NORTHEAST | NAGALAND | MIZORAM | MEGHALAYA | MANIPUR | ARUNACHAL PRADESH | TOURIST PLACES OF ASSAM