The disciples on Sunday remembered their Guru 'Sangeetjyoti' Shibendra Narayan Banerjee in a unique way in Guwahati.
"His hands over my forehead was the best blessing after the strings of my 'Tanpura' shattered just before my classical performance at Akhil Bharatiya Gandharva Mahavidyalaya Mandal's national classical music convention in Orissa in 2003. But I succeeded in my performance," said Tuktuk Bhattacharjee during her tribute to the legendary Guru 'Sangeetjyoti' Shibendra Narayan Banerjee, popularly known as "Shiben Sir" among his students and followers across Northeast India and beyond.
On Sunday, the day of "Matshasparsha" rituals, his disciples and followers paid their homage to this legendary maestro in a unique way with words & music through a day-long session which ended on Sunday evening in presence of his near and dear ones and followers at Pandu in Guwahati city.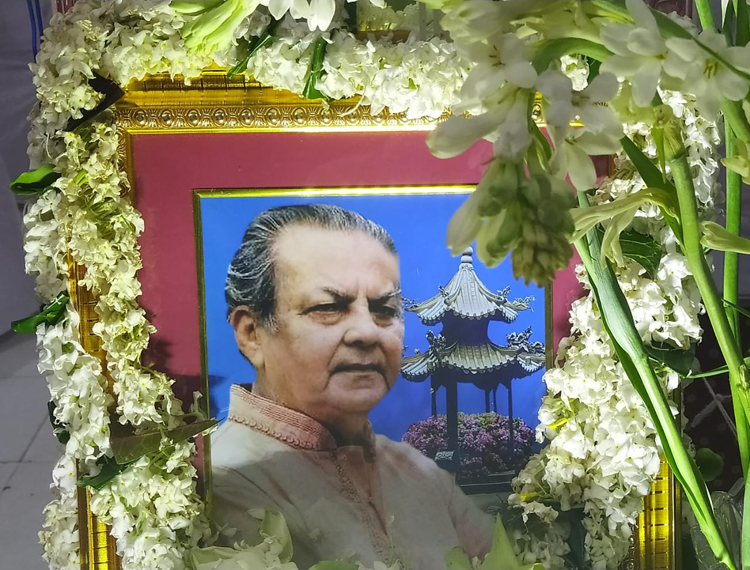 Guru Shiben Banerjee, despite being a noted railwayman in his service life, was much more popular as a Guru of classical music in Assam. He was born in Karimganj district of Assam on February 1, 1938 and breathed his last at Gauhati Medical College and Hospital (GMCH) on October 5, 2021.
Dr. Shah Muhammad Tanvir Mansur, Assistant High Commissioner of Bangladesh in Guwahati, admired the contributions of Guru Shiben Banerjee in the field of classical music and expressed his deepest condolence on behalf of the people of Bangladesh while paying his tribute to the legendary musical personality of Assam.
Many personalities from the music world of Assam, namely Ruma Devi Kalita, eminent veteran vocalist of All India Radio, Tarun Kalita (eminent Sarod player), Pankaj Sharma along with Pomi Bhattacharjee, Shyamali Chanda, Bikash Bhowal, Debashis Bhattacharjee paid their tributes through music at the memorial function along with other eminent personalities of various walks of life.
Late Shiben Banerjee was awarded the title of "Maha Guru" by Akhil Bharatiya Gandharva Mahavidyalaya Mandal (Mumbai) during the national convention in Odisha in 2003.
Apart from various titles and honours achieved as a Guru of classical music, late Shiben Banerjee was also a member of the audition board of All India Radio, Guwahati.
The unique form of condolence for Guru Shiben Banerjee with words and music by his disciples is not only a memorial tribute but also set a milestone before the budding and seasoned, amateur to professionals of classical music in Assam.
(Report filed by Subhamoy Bhattacharjee)




This News Present You By Guwahatiassam.info With Out any changes as it Publish at the Original Source.
Like Us to Read This Type of News
Read More Relevant on ASSAM NEWS | GUWAHATI NEWS | NORTHEAST OF INDIA | TRIPURA | SIKKIM | TOURIST PLACES OF NORTHEAST | NAGALAND | MIZORAM | MEGHALAYA | MANIPUR | ARUNACHAL PRADESH | TOURIST PLACES OF ASSAM